Magic Card Deck Trick
A brilliantly simple to do but very impressive self working card trick that can leave your audience very puzzled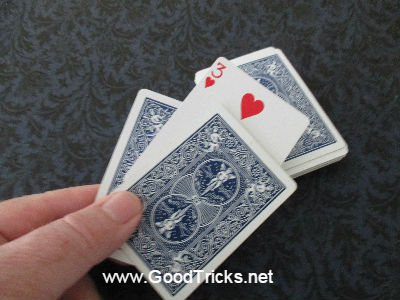 Effect : This trick can really mess with peoples heads as they seemed to have complete control of mixing the cards and losing their chosen cards in the deck which incredibly find their way back together again
How Its Done : Invite three spectators to freely choose a card from a regular deck and ask them not to reveal the card but to memorize it..
Now, going from left to right deal out three piles of cards, the first pile should contain 10 cards and the next two piles to the right of that pile should each contain 15 cards. The remaining nine cards are kept by you, the magician.
Next, ask the first spectator to place their card face down on on the left hand pile of cards containing 10 cards. Ask them to choose any amount of cards they wish from the middle pile, contain 15 cards and place these cards on top of their card on the first left hand pile.
Next, ask the second spectator to place their card on the middle pile and they then can take any amount of cards from the remaining third pile on the right hand side and place the cards on top of their card on the middle pile.
Now ask the third spectator to place their card on the third right hand side pile. Give them the nine cards that you have in your hand and ask the spectator to place these cards on top of their card.
Now, keeping all the cards face down, pick up the right hand side pile and place it on top of the middle pile. Pick up these two together piles and place them on top of the left hand side pile.
You can now confidently explain to the spectators that their cards are well and truly lost in the deck but as its a magic deck, that the cards will probably magic themselves back beside each other.
Next, count of four cards from the top of the deck and place them on the bottom.
Now tell your spectators that you will deal all the cards out on the table into two piles, one pile face up and the next pile face down.
The spectators are to shout out when they see their memorized card.

The cards are then dealt out into two piles face up, face down, face up, face down etc When all the cards have been dealt, the spectators will not have seen their cards. Remove the pile, containing the face up cards and re deal the remaining cards into two face up face down piles again. When all the cards have been dealt the spectators will not see their cards.
Repeat the process until you have only a face down pile of three cards. When these cards are turned over the first card will be the third spectator's card, the next will be the second spectator and the last card will be the first spectator's chosen one.
As mentioned before, this trick is a real head scratcher as the chance of the cards coming back together seem almost infinite. Add some patter to enhance the atmosphere and entertainment value of the trick.