Cool Card Tricks
Hand picked selection of quick to learn easy card magic.
Clever easy learning techniques tips and tricks.
Learn fast how to do some new powerful crowd pleasers !!
Learn fast to do some premium magician misdirection sleights, business card tricks and have fun as you discover some cool dealer secrets and handling skills. Top training tips revealed to help impress and entertain your audience every time with our step by step photo instruction and easy card trick tutorial videos which are useful for both beginner magicians and more advanced ones.
The most beneficial start you can give yourself when starting to learn card magic is to familiarize yourself with a few super useful basic sleights such as the double lift, the elmsley count. a false cut, false shuffle and how to force a card as these basic moves will be used over and over again as the mechanics of hundreds of card tricks.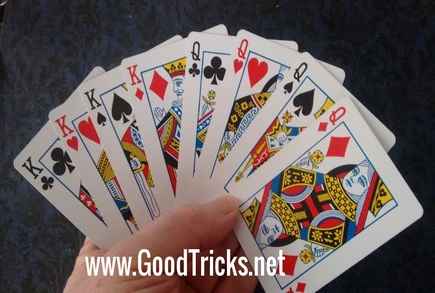 Quickly learn how an ordinary pack of playing cards can become an important piece of kit in every street magician such as Dynamo's props. Whether a poker playing wizard or an occasional gin rummy player, card magician magic has universal appeal.
The beauty of this chapter of rewarding magician skills is that it is very portable requiring few props such as a pack of cards and some easily found objects such as a coin or ring or a business card..
Start off by fast track learning some easy card tricks with our beginner tutorials and as you develop the basic skills you can then move on to more advanced illusions.
It may take a while to empower yourself with the know how to reach David Blaine or Criss Angel standard but you should have a lot of fun along the way. A useful reference for learning card magic is The Royal Road to Card Magic book which is a card magic classic and a valuable tool to learn from. One of the most useful gimmicks that you may wish to look into obtaining is an invisible deck. The reaction this trick deck is capable off is incredible for the small outlay.
The beauty of this fascinating hobby is that you can learn it at any age. Whereas starting younger does give you the advantage of usually being able to get the hang of learning new magic moves and sleights relatively quickly, there is nothing wrong with taking up this great pastime even if your 60 or 70 something, heck, the sky is the limit here.
Penn and Teller have contributed a lot to the popularity of card magic with their television specials and will have inspired a lot of people to look into this fascinating hobby. Who knows, if you practice enough, you could even make a decent living as a professional card magician and make money doing what is also an enjoyable and profitable pastime.
Should you choose to become a wedding magician or restaurant magician doing close up magic with cards or business cards, this enjoyable pastime can also be a good money earner if you put in enough practice to reach a worthy standard.